TYK Music Exchange at the Riekes Center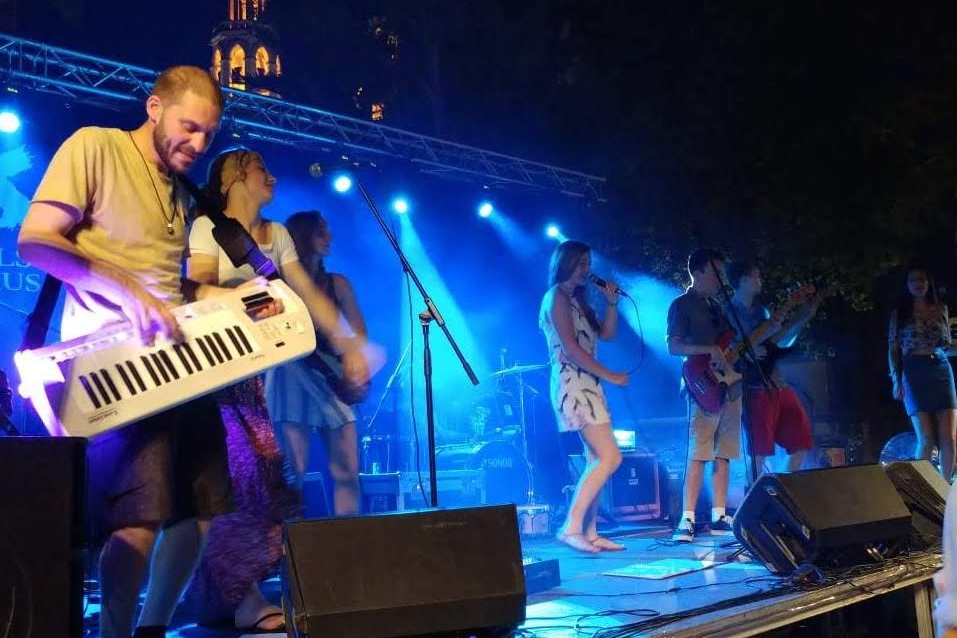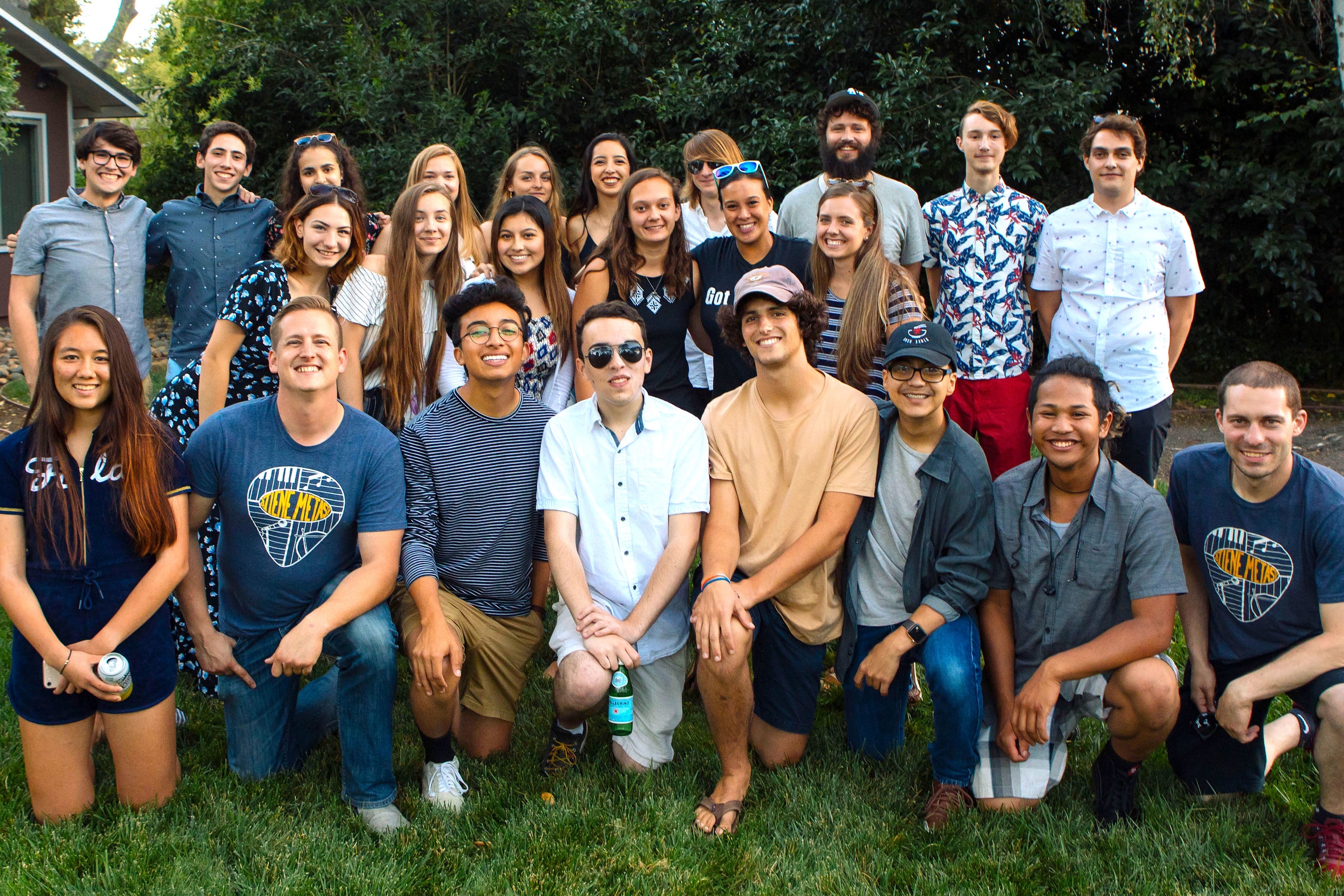 Thank you for your interest in the TYK Music Exchange at the Riekes Center. This is a once-in-a-lifetime opportunity for a select few young musicians to experience new cultures, learn, teach, and participate in a variety of subjects, and tour in a band in Spain.
Program highlights include:
Professional-level band and performance experience through touring in the Bay Area and Spain

Living abroad and exploring the San Francisco Bay Area

Learning new subjects and taking on new challenges

Developing work skills through volunteering and helping others

Cooking skills and learning to live in a community

Making new friends
Who Should Apply?
Age: 16-19
Instruments: Vocals, Piano, Electric Guitar, Bass, Drums, Saxophone, Trumpet, Trombone
Experience: Prior rock band and live performance experience is encouraged but not necessary, provided you prepared to work hard to be ready. You will be learning 30+ songs from February to June, rehearsing 12-15 times with the band in June & July, and then performing on stage 9 times in 10 days. Most songs in the setlist are moderate difficulty, but there are a few for every instrument that are difficult.
Music Style: The Riekestra is an oldies, funk, soul, and pop rock band. You can view our setlist here at the bottom of the page. If you enjoy playing this style of music, or if you are open to playing this style of music, you will enjoy being part of the band. If not, this is probably not the program for you.
Values: You will participate 20-25 hours per week at the Riekes Center in community service, and willing to "do whatever in the spirit of helping others." You will often be in situations that are outside your comfort zone as part of helping others. In addition, you will participate in many subjects and activities outside of music, and interact with a diverse community of people. At the Riekes Center, making others feel welcome regardless of their background is a core value.
The Riekestra's motto is "I Got Your Back." This means being willing to do what is best for the band and for the audience, and putting the needs of the team first. You will share the spotlight and the responsibility of the band with your fellow bandmates.
Open-mindedness and Sense of Adventure: If accepted into the program, you will live abroad for about two months. You will live in Riekes Center housing with others that are on a similar adventure.
"Leave This Place Better Than You Found It"
The Riekes Center motto "Got Goals?" is about leaving the center better than when you arrive, through setting and achieving your personal goals. The motto "No Labels, No Limits" is about allowing others to be themselves and creating an environment of non-judgment where every participant is welcome. In this way, you leave the place better than you found it.
Does this sound like you? Are you excited for this new adventure? Great! Read on…
Application Process
Ok, so you're ready to get started. How does the application process work? First of all, you have some reading to do.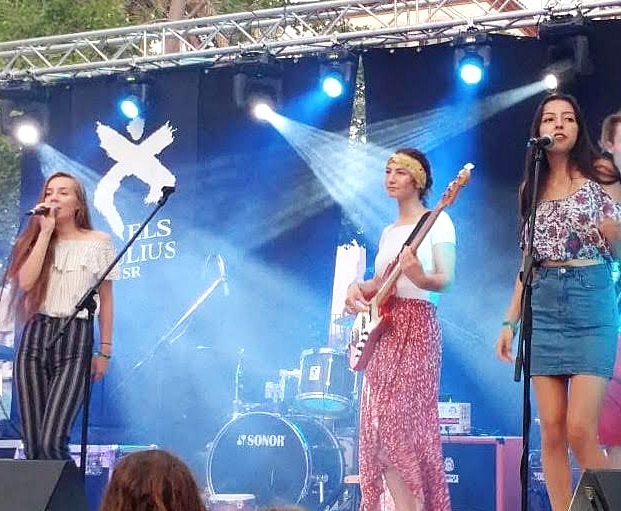 On this site you will find:
A basic program overview of both Community Service and the Riekestra Expedition to Barcelona

Instrument-specific notes

Instructions for creating your audition video

The link to apply (create your video before you apply)

We are accepting applications until January 13
Let's keep going…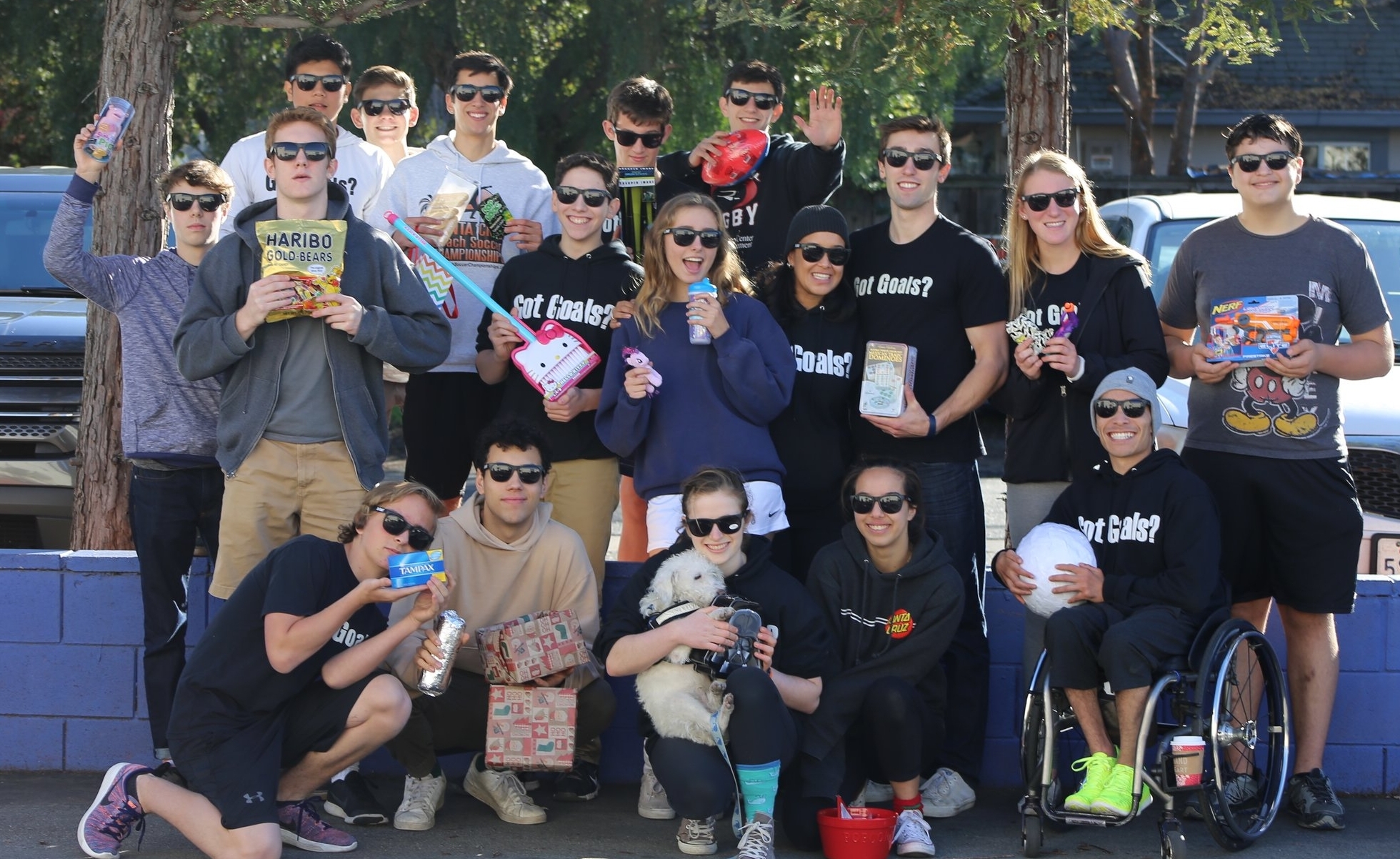 June 3 - July 24 in Menlo Park, CA
As part of the program you will spend 20-25 hours per week at the Riekes Center in our community service program, "doing whatever in the spirit of helping others."
"Doing whatever in the spirit of helping others"
Community service at the Riekes Center takes many forms. No two days are ever the same, but the daily tasks and activities fall into 3 different categories:
Learning & Participation

Teaching & Helping Others

Projects & Daily Tasks
Learning & Participation
The Riekes Center has a diverse set of programs and activities in Creative Arts, Athletic Fitness, and Nature Awareness, plus other activities related to the day-to-day events happening at the center.
On a given day, you might participate in any of the following: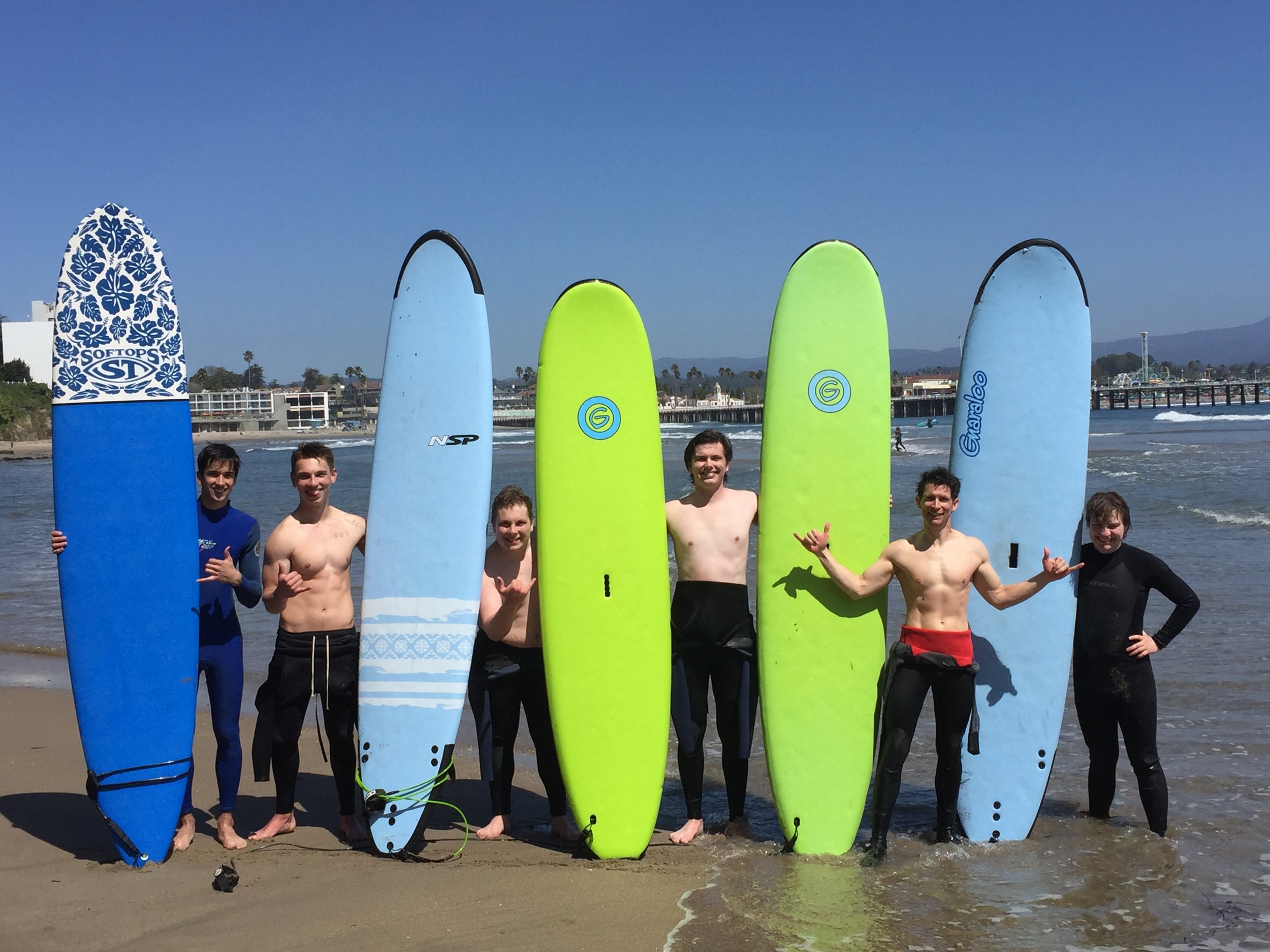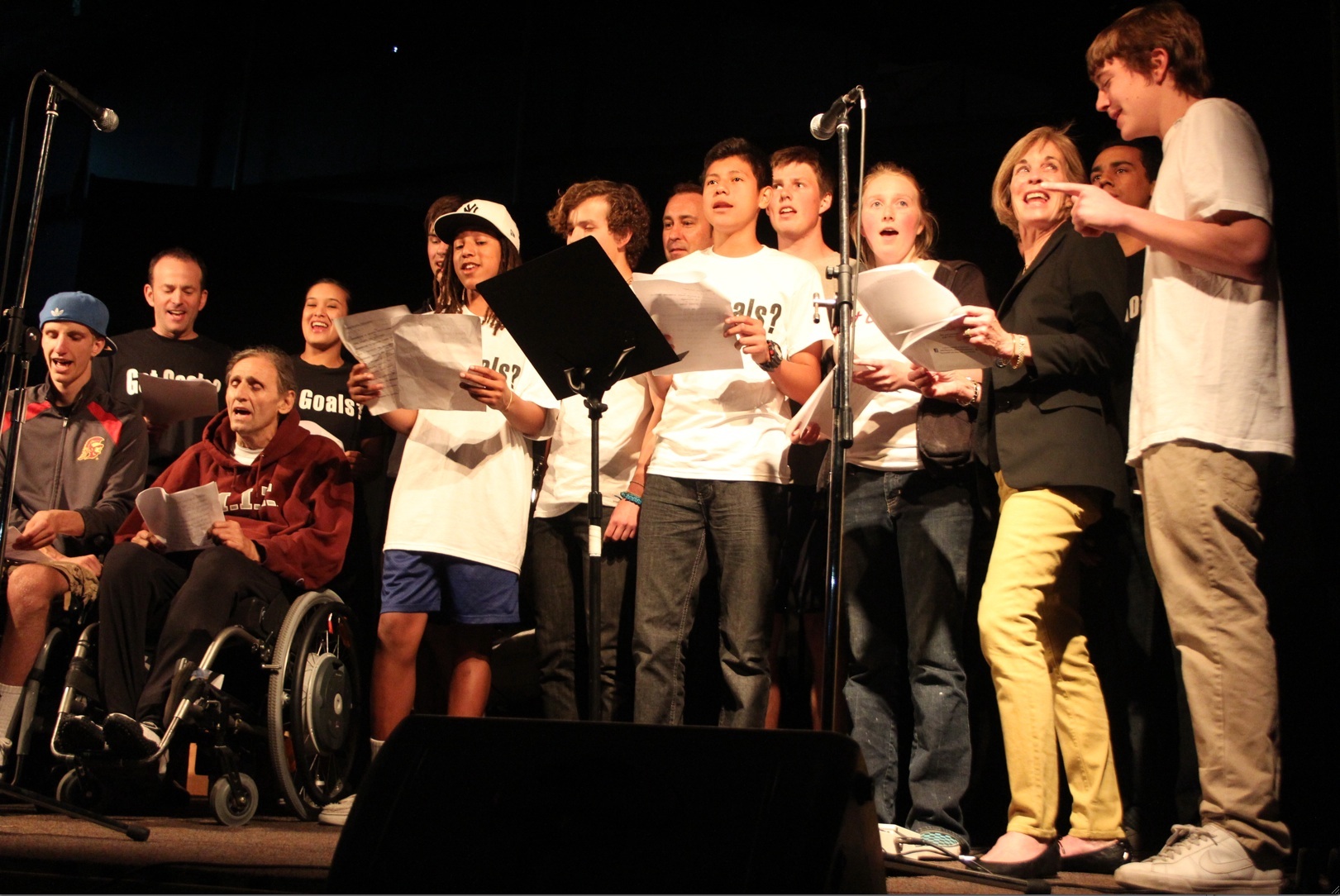 Singing

Rapping

Making Fire by Friction

Performing on Stage

Working Out

Giving Tours

Interviews

Cooking & Grilling

Playing Games & Sports

Arts & Crafts

Blindfold & Awareness Games

Hiking

Video Production

Surfing

Tracking

Photography

Nature studies (learning plants, birds, trees, etc)

and more
Teaching & Helping Others
Once you have learned a skill at the Riekes Center it's possible that you will learn how to teach others that skill or help an instructor teach that skill. As you get familiar with different skills and activities you will be able to help more and more people learn those skills. Sometimes you will train someone one-on-one (for example, a drum lesson or teaching someone exercises during their workout), and sometimes you will work with a group (leading a game, or helping to run the grill at lunchtime).
There are literally dozens of different activities and skills to learn and teach at the center, and you could find yourself helping people (and learning from people) of all ages, races, genders, physical and mental capabilities, and other backgrounds.
In addition, there may be times that allowing others to teach you can be an acting of caring. You can provide them the opportunity to test their own skills and provide care for them through letting them teach and help you.
Projects & Daily Tasks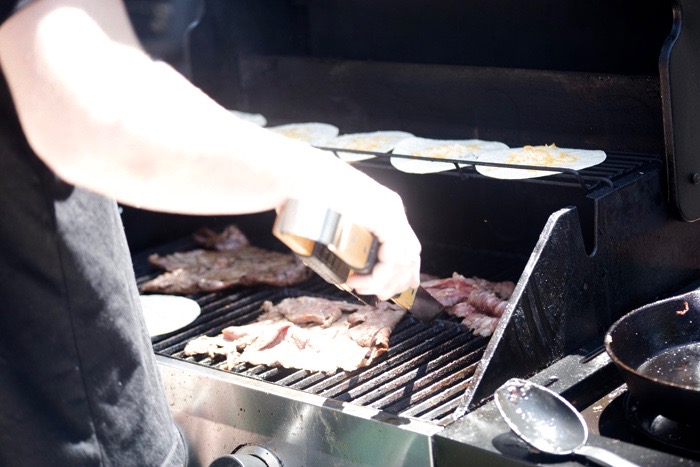 Every day, there are many different things that are needed to care for the Riekes Center facility. All volunteers are expected to help with cleaning, maintenance, repairs, admin tasks, working in reception, etc. There are also various projects that happen throughout the summer than you may help with.
There's a lot going on every day and being a volunteer means being ready to help in any way you can!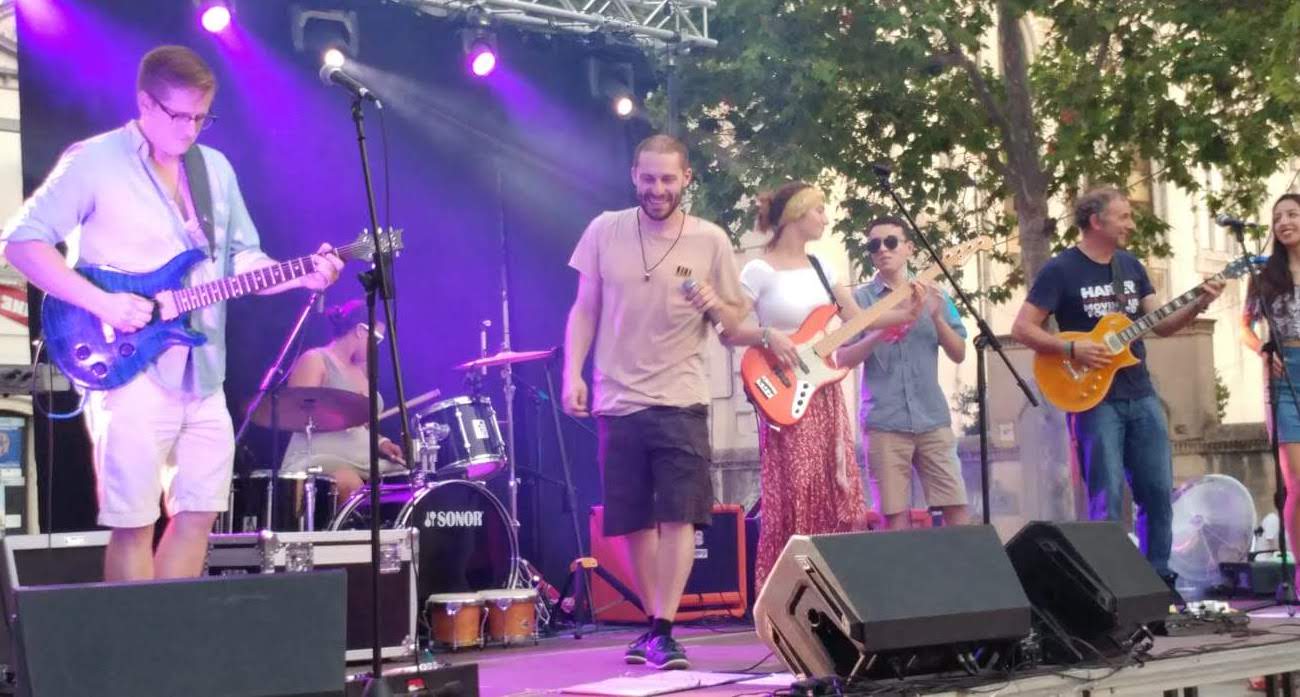 The Riekestra Tour to Spain
June & July rehearsals at Riekes
Tour in Barcelona July 17-Aug 4
PHASE ONE: LEARNING SONGS
From February through the end of May you will be learning and practicing the 35-song setlist

You are expected to know the entire setlist prior to beginning rehearsals with the band in June

We have a document with basic charts of each song, and also several videos and other resources available

We have a support network of experienced students and Riekes staff that can help answer questions about the setlist

The learning pace is about new 3 songs per week, so you will need to regularly dedicate time to learning
PHASE TWO: REHEARSALS
From early June until the band departs for Barcelona in mid-to-late July, we will have evening rehearsals 2-3 times per week. Two nights per week, we hold 3-hour-long rehearsals where we work toward developing chemistry as a band and tightening up our songs. Our goal is to sound like a professional-level band on every song.
In addition to weeknight rehearsals, there will also be a few weekend rehearsals and at least 2-3 live shows in the Bay Area to help the band get ready for the tour. The band will also set up time to get to know each other outside the rehearsal room, through games, food, and activities.
PHASE THREE: BARCELONA TOUR
SESSION 1: July 17-28 SESSION 2: July 24-August 4
During the tour, we will play 9 live shows in 10 days in the city of Sitges, Spain and the nearby cities. Shows are typically 25-30 songs per night in a variety of venues.
You will be living with your bandmates. In addition to the nightly shows, the group will share the responsibilities of living together, including:
Grocery shopping

Cleaning

Cooking meals (breakfast and dinner most days)

Prepping Setlists

Video & photo documentation of daily activities, concert footage, interviews, etc

Planning activities and adventures in free time
On our day off, we will take a day trip to Barcelona to see Sagrada Familia and enjoy some of the incredible history and culture of the city.
While there is some free time throughout the trip, it is important to understand that we are essentially on a working trip. Our focus will be on preparing for the shows every day and taking care of the household tasks that support the band.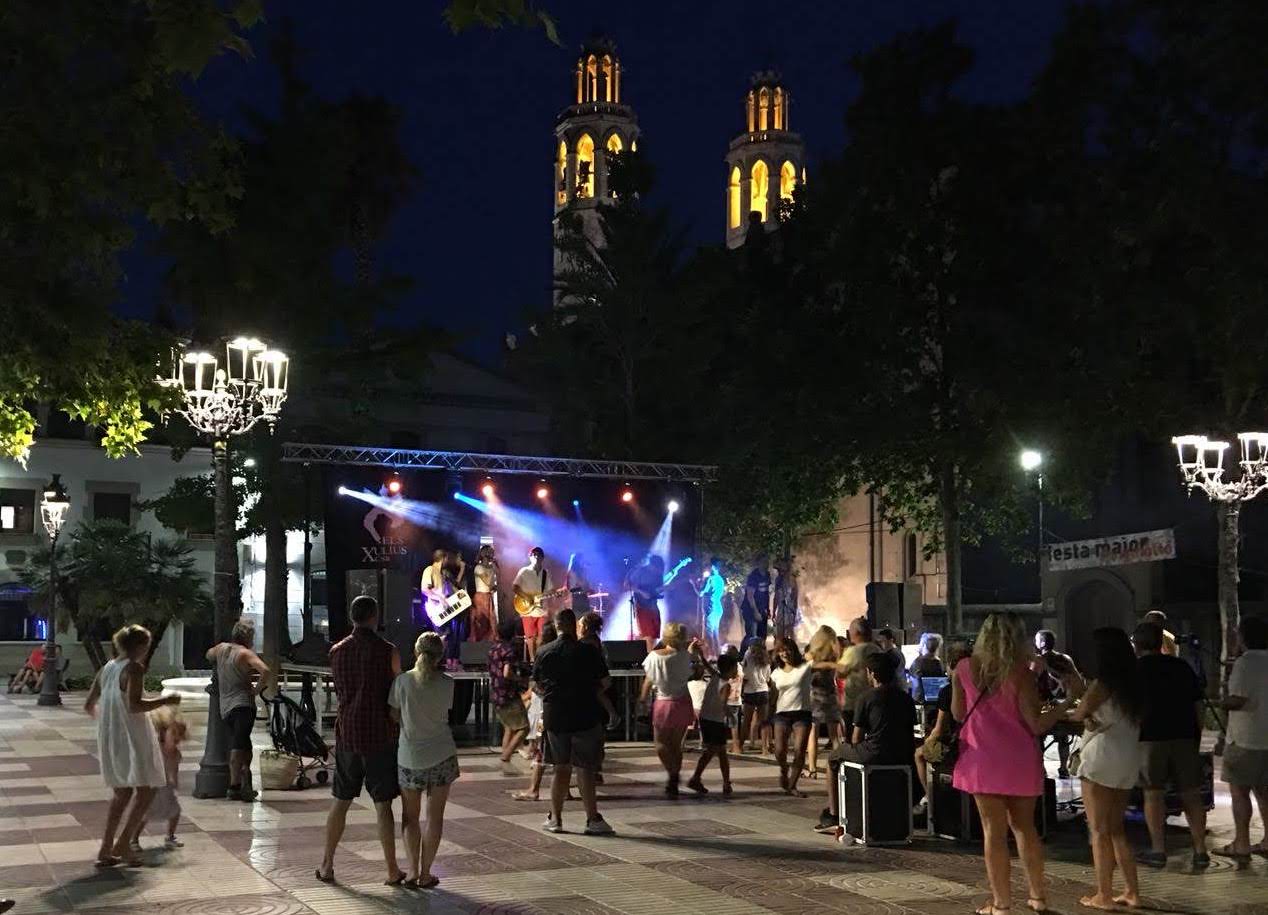 Band Roles & Music Experience
During the program, you will be part of the The Riekestra, the Riekes Center student and staff band. When you travel to Barcelona, you will be part of a group of 12-15 musicians. There will be 2-3 musicians that can play each instrument, to ensure that we have a complete band every night and to add to the Riekes Center experience of teaching and learning from your peers.
One of the reasons we have multiple people at each instrument is to guarantee the success of the band while helping each individual grow and learn at their own pace. Ideally, you will be able to learn every part of every song on your primary instrument. But if you end up having a few songs that you are not ready for, the other instrumentalists can "get your back" and make sure each song is accounted for.
Read the follow instrument sections for a few helpful notes about each role.
Note for All Musicians
It is recommended (but not required) that Drums, Bass, Electric Guitar, Keys, or Vocals is one of your primary instruments.
Many students are also experienced on multiple instruments and choose to learn parts for more than one. If you play multiple instruments, we will work with you to make a plan for which songs you will learn on which instrument (or if you will choose to learn everything on all instruments).
In addition, any participants that can sing backing vocals are encouraged to learn them. We currently have 32 songs in our set with backing vocals, many of which require 3-4 vocalists at once.
Horn Players
If you can play saxophone, trumpet, or other horns and winds, we have about a dozen songs in the set that have recorded parts for you already, and many others where you could add parts that work for the song. It is not ideal to be in the band as ONLY a horn player, but it can work. Ideally, you would also be able to sing some songs, play percussion, or play one of the primary five instruments in addition to the horn.
Drums & Percussion
Percussion includes tambourine, shaker, bongos, cowbell, etc
Each band will have at least two drummers, so learning the percussion parts is very useful for bringing the songs to the next level of quality.

Many of the songs are easy/medium difficulty, with only a few songs that are considering difficult.

For difficult songs, it is ok to simplify the grooves. The priority is to know the form and feel of each song and play with great time.
Bass Guitar
For the majority of the songs, you will be expected to learn them "as recorded." However, there are also several songs where you can learn the chord progression and improvising appropriately.

For difficult songs, it is ok to simplify the grooves. The priority is to know the chord progression, form, and feel of each song, and play with great time.
Electric Guitar (rhythm and lead)
Rhythm Guitar
Rhythm guitarists are not required to solo (though you can learn a few if you want)

You are expected to learn only one part for each song you learn

Many songs have "as recorded" parts to learn, but several can be improvised within the chord progression

Most songs have chord-based parts, but several also have riffs/licks to learn
Lead Guitar
Lead guitarists are expected to solo. About half of the solos learned are "as recorded" and the other half are improvised.

You are also expected to learn the rhythm parts for each song, so you will likely be learning 70-75 parts in total.
Piano/Keyboards
Many songs in the set can be played by playing chords with a good feel

There are also several songs in the set that need to be learned "as recorded," as well as several string/horn parts that are essential to the arrangement.

You are not required to solo, but there are 3-6 songs where you would have the option to solo if you're comfortable.
Lead Vocals
Baritone Male Voice: our current set has 15-20 songs that are appropriate for your range.
Tenor Male Voice: our current set has 25-35 songs that are appropriate for your range.
Female Voice: our current set has 25-35 songs that are appropriate for your range.
In addition, all singers will be asked to learn as many backing vocals parts as possible. We currently have backing vocal parts on 32 songs, including about 10 songs that require 3-4 vocalists.
Memorizing Lyrics: you are expected to memorize the lyrics for all of your songs.
Singing in Spanish/French: We have 4-6 songs with lyrics in Spanish or French. You are not required to learn those songs, but it is encouraged.
PROGRAM TUITION & FINANCIAL AID
The full tuition for the program is €6500. This tuition includes the following:
All airfare (Finland to California, to Spain, back to Finland)

Housing in California

All food, transportation, and housing in Spain, as well as some tourism in Barcelona and Sitges

The Riekes Center provides free lunch options every day in California

Riekes Center will provide a bicycle for travel to and from the center. Housing is 6k from the center, about a 25 minute bike ride. You can often get a ride from someone as well.
You will need some spending money for the following:
Breakfasts and dinners for 6-7 weeks (€7-10 per day, 400-700 total)

Money for tourism, public transport for city visits, miscellaneous stuff, etc (€100-200)

Travel insurance (about €100 or less)
FINANCIAL AID
The Riekes Center believes students should be able to participate in our programs regardless of their ability to pay. Every year, we raise funds to provide financial aid for our students that cannot afford to pay the tuition for our programs. In the past, we have provided up to 100% of the tuition for students that are qualified for the program. So, if you feel like you are a good fit for this program we encourage you to apply, even if you cannot afford the tuition.
We understand this program is a big financial decision for any participant, whether paying full tuition or receiving some financial aid, and we are happy to answer any questions that you and your family may have about the program costs, and the process of receiving financial aid.
How to Create Your Audition Video
Your audition video is your first and best chance to introduce yourself to the instructors and help us understand why you are a great fit for this program. Audition videos should contain the following:
Begin by introducing yourself

Tell us what being a part of this program would mean to you

Tell us why you are a PERFECT fit for the music portion of the program

Tell us why you are a PERFECT fit for the Community Service program at the Riekes Center

Play us a song, live and unedited, that you think demonstrates your skill as a musician. It can be solo or can be sung or played along with another musician or backing track if you feel that is appropriate.

Upload your video to Youtube, Google Drive, or a similar service. You will need to copy and paste the link into the application so we can view the video online.

Questions? Contact Milena at mscalbanese@gmail.com
Complete your Audition Video before you apply (you will need to include a link to the video in the application. It's ok to have two video links, if you prefer to do your intro and song separately)